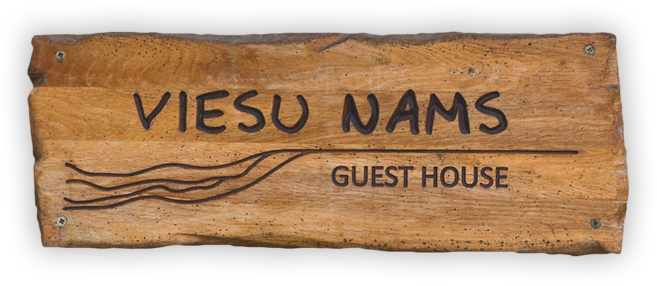 Feel like at your own countryside house
The guest house will make you feel comfortable and cosy like at your own countryside house. It is well suited for leisurely rest with family and friends. Windows offer a view to the garden with tall trees protecting "Kosīši" from the mighty sea winds.
The design of the guest house was inspired by architecture of Northern Vidzeme. Some of the renovated furniture that used to serve owners of the old "Kosīši" residence in 19th and 20th century is used in the interior. We usually rent out the whole guest house, but during some periods you can rent separate one-room and two-room apartments.
GENERAL AMENITIES
Heating, hot water, fireplace with wood, Wi-Fi, parking lot, tourist information
EQUPMENT
SAT TV, projector, sound system
ENTERTAINMENT
Board games, toys, books, magazines, stationery
DINING ROOM
Tables with 25 chairs, 2 highchairs
KITCHEN
Fridge with a freezer, dish washer and dishwasher tablets, oven, electric stove, electric kettle, microwave oven, toaster, coffee machine (with filters), mixer, frying pans, sauce pans, bowls, full place setting, glasses and cutlery for 25 persons, dish washing liquid, soap, sponges
BEDROOMS
16 sleeping spaces in beds, 4 additional sleeping spaces on pull-out chairs. Blankets, pillows, bed linen, throws, cribs upon request, children's blankets, pillows and bed linen
BATHROOMS
Towels, shampoos, soap, toilet paper
LAUNDRY ROOM
Washing machine, washing powder, drying rack, drying rack for shoes, ironing board, iron, cleaning equipment, wash basin
OUTDOORS
Spacious terrace with garden furniture, a pergola with a grill, grill equipment, playgrounds, streetball hoop, volleyball net, pond, lawns, bonfire place
Standard prices for the guest house
Holiday
(Friday: 18.00- Saturday 12.00; Saturday 18.00-Sunday 14.00)
680
Working days
(Monday-Friday 14.00/12.00)
600
Weekend
(Friday 18.00-Sunday 14.00)
1000
Short week
(Monday 14.00-Friday 12.00)
1320
Long week
(7 nights 18.00/14.00)
1600
Sea Room
(1 double bed, 2 single beds, shower/WC)
80
West Room, South Room
(1 double bed, 1 single bed, shower/WC)
70
East Room
(2 single beds or 1 double bed, shower, WC)
60
North Room
(2 single beds or 1 double bed, shared shower/WC)
50
Middle Room
(1 double bed, shared shower/WC)
40
Holiday
(Friday: 18.00- Saturday 12.00; Saturday 18.00-Sunday 14.00)
680
Working days
(Monday-Friday 14.00/12.00)
600
Weekend
(Friday 18.00-Sunday 14.00)
1000
Short week
(Monday 14.00-Friday 12.00)
1320
Long week
(7 nights 18.00/14.00)
1600
Sea Room
(1 double bed, 2 single beds, shower/WC)
80
West Room, South Room
(1 double bed, 1 single bed, shower/WC)
70
East Room
(2 single beds or 1 double bed, shower/WC)
60
North Room
(2 single beds or 1 double bed, shared shower/WC)
50
Middle Room
(1 double bed, shared shower/WC))
40
Layout of premises